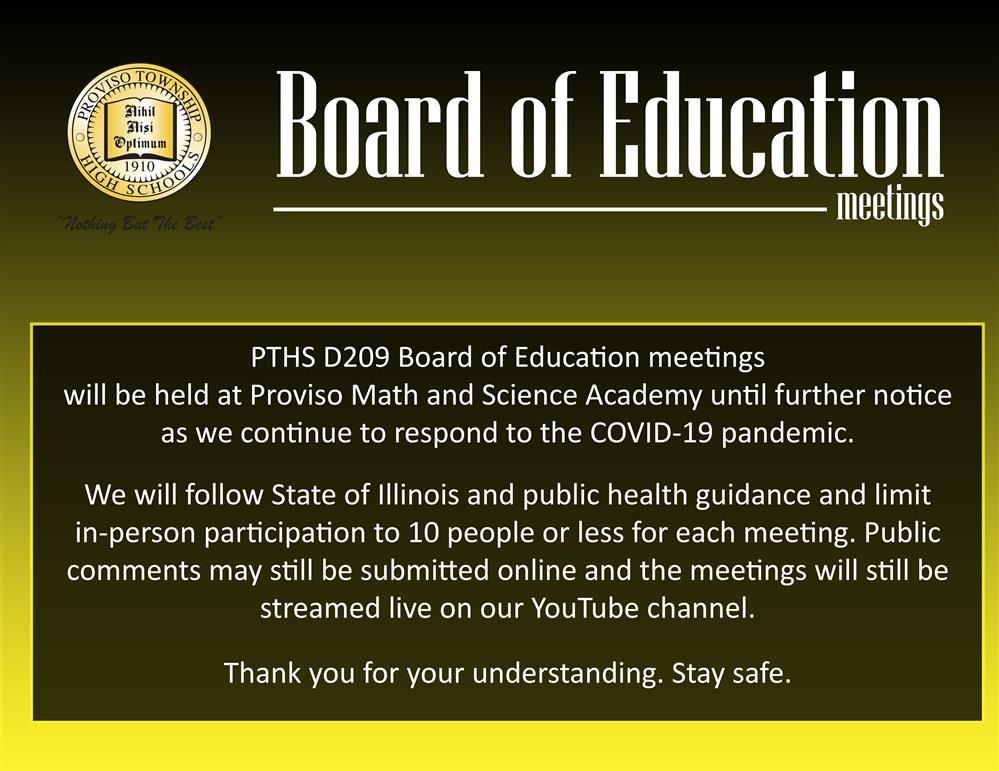 District News
PTHS D209 Board of Education meetings will be held at Proviso Math and Science Academy until further notice as we continue to respond to the COVID-19 pandemic.

The Proviso Township High Schools District 209 (PTHS D209) Board of Education joined Superintendent James Henderson for a first look tour and ribbon-cutting ceremony for the Advanced Manufacturing Lab at Proviso West and the Culinary Arts Lab at Proviso East - two new state of the art, industry standard, work spaces where students will gain skills designed to launch them into promising careers

The enrollment period for admission into the Proviso Township High School District 209 (PTHS D209) Math and Science Academies at Proviso East, Proviso West, and Proviso Mathematics and Science Academy (PMSA) will launch this Sunday, November 1st

Faculty and staff at East, West, and PMSA recently took time to Chat N Chew with Superintendent Henderson. They discussed everything from remote learning and trends in COVID data to growing up in Mississippi and good barbeque on the southside of Chicago. Check out a few clips from the events!

Proviso Township High Schools District 209 is pleased to announce that it will participate in athletics this fall.

The health brochure shelves in room 86B at Proviso East High School are empty. A bottle of hand sanitizer sits on the receptionist's desk. To the right, there is a sign that reminds visitors that masks are required. The waiting area of the clinic is quiet and has no patients. The Loyola University Chicago school-based health center was bustling with students in need of health services before COVID-19 changed our way of life.

Follow us to learn more about the monthly construction updates. Click on the title to see the images of how your school is transforming.

"I was in the hospital room sitting next to her and held her hand. I told her it was time for her to go. The Lord is calling. I made five promises to her that night. Two of them were to graduate high school and college with a master's degree." (Versión en español incluida)

​ E.W. Scripps Network featured the Extended School Year program at Proviso East High School. The story aired in New York (TV market #1), Denver, and Milwaukee. Click the link to learn how virtual learning is impacting lives.