Return to Headlines
Student Worker Summer Program Builds Employment Skills  | El Programa de Verano Estudiante-Trabajador Arma Habilidades de Empleabilidad
Over twenty PTHS D209 students participated in the re-established Student Worker Summer Program. The program allowed students to learn from and work with District staff. Under the supervision of the Building Managers, students served as custodial aids, groundskeepers, and building maintenance assistants. L.T. Taylor, Building Manager at Proviso East, remarked that, "The influence the program had on the students was greater than the monetary value. The experience included developmental growth, such as coaching on problem-solving, self-awareness, critical thinking, decision making, effective communication, and developing interpersonal relationships."
Ron Anderson, Building Manager at PMSA, added that, "The students in the program were punctual, followed directions without any problems and completed all tasks assigned to them. The students learned about different chemicals, how to operate different machines, the proper way to clean certain areas, the importance of being on time and doing quality work." This program not only enhanced the students' experience, but also that of the staff.
"There was a sense of fulfillment in seeing them learn new things and ask questions. The students collaborated and supported each other in order to accomplish their objectives and came together as a team with the maintenance department. There were strong leaders as well as strong supporters among the student workers," commented Angelo Calcagno, Building Manager at Proviso West.
According to Assistant Superintendent of Human Resources, Athletics, and Safety, Tony Brazouski, Ph.D., PTHS D209 looks forward to enhancing opportunities for all students and redefining student experiences by expanding this program beyond the summer and into other areas within the District over the next few years. "It's a great way to connect school to the world of work."
PTHS D209 is proud with the results of this program, as it provided students the opportunity to develop skills that will help them in their professional post-secondary endeavors.
For Gallery click HERE.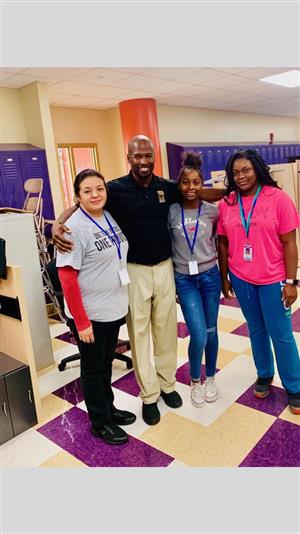 ---
Más de veinte estudiantes de PTHS D209 participaron en el reinstituido Programa de Verano Estudiante-Trabajador. El programa les permitió a los estudiantes aprender y trabajar con personal del Distrito. Bajo la supervisión de los Administradores de Edificios, los estudiantes trabajaron como asistentes de mantenimiento y jardineros. L.T. Taylor, Administrador de Edificio de Proviso East, atestiguó que "La influencia que el programa tuvo en los estudiantes va más allá del valor monetario. La experiencia incluía crecimiento evolutivo, como entrenamiento en resolución de problemas, consciencia de sí mismos, pensamiento crítico, como tomar decisiones, comunicación efectiva y en desarrollo de relaciones interpersonales".
Ron Anderson, Administrador del Edificio de PMSA, agregó que "Los estudiantes en el programa fueron puntuales, siguieron instrucciones sin ningún problema y completaron las labores que les fueron asignadas. Los estudiantes aprendieron sobre diferentes químicos, como manejar diferente maquinaria, la forma adecuada de limpiar diferentes áreas, la importancia de llegar a tiempo y hacer un trabajo de calidad". Este programa no sólo enriqueció la experiencia de los estudiantes, sino también la del personal.
"Hubo un sentido de satisfacción al verlos aprender cosas nuevas y hacer preguntas. Los estudiantes colaboraban y se apoyaban el uno al otro para cumplir sus objetivos, y formaron un equipo junto con el departamento de mantenimiento. Hubo tanto líderes fuertes, como fuerte apoyo," comentó Angelo Calcagno, Administrador de Edificio de Proviso West.
De acuerdo con el Asistente de Superintendente de Recursos Humanos, Seguridad y Deportes, Dr. Tony Brazouski, PhD., PTHS D209 busca la forma de enriquecer oportunidades para todos los estudiantes y de redefinir las experiencias expandiendo este programa más allá del verano y a otras áreas dentro del Distrito en los próximos años. "Es una gran forma de conectar la escuela con el ámbito laboral".
PTHS D209 está contento de con los resultados del programa ya que les dio a los estudiantes la oportunidad de desarrollar habilidades que les ayudarán en sus empeños profesionales postsecundarios.
Para ver la galería presione AQUÍ.