Return to Headlines
Proviso West Announces 59th Annual Holiday Tournament Lineup
The 59th Annual Proviso West Holiday Tournament bracket is out; it's a show you don't want to miss! This year's participating coaches met at Proviso West on December 14, 2019 for the big reveal where they showcased their teams and expressed their excitement for playing in the historical tournament. (see photos here) Sixteen talented teams will be fighting for the Championship win from December 26 through December 29. This event is one of the most respected, competitive and historic holiday tournaments in Illinois, and a source of community pride and honor. Dedicated fans have attended the event for over 30 years and continue to look forward to cheering on the Panthers and the Proviso East Pirates, during this holiday season.
The tournament has always had the support of the district as it has showcased individuals who were destined for future success at much higher levels. The list of talented players participating continues to be impressive this year. The successful history of the tournament speaks for itself as dozens of players have gone on to college and professional ranks as players and coaches in the sport of basketball. Some examples include Proviso East alumni Glenn "Doc" Rivers, the current NBA LA Clippers coach, Minnesota Timberwolves' Robert Covington, Toronto Raptors' Fred Vanvleet, retired NBA player Shannon Brown, and his brother Milwaukee Bucks' Sterling Brown. District 209 Board Members and Administrators always take the opportunity to highlight the fact that academics are first and foremost, and student-athletes benefit greatly from effective teachers and the life lesson they learn from the participation in athletics.
As Board of Education Vice President Ms. Kelly prepares to attend the historic event this year, she reminisces about the great times spent at the games, she shared with D209, "This time of the year is a very exciting, especially with the Holiday Tournament right around the corner. This Proviso tradition gives great athletes an opportunity to showcase their talent, not only to our school community, but college coaches as well. We look forward to once again welcoming basketball fans from across the state for an amazing four days of basketball."
Sixteen competitive teams will participate this year, thirteen of which will be returning for a second year in a row.
The teams that will be showcased are as follows:
| | | | |
| --- | --- | --- | --- |
| Bogan HS | Crete-Monee HS | Dunbar Vocational | Fenwick HS |
| Hillcrest HS | Hyde Park Academy | Lane Tech College Prep | Larkin HS |
| Leo Catholic HS | J. Sterling Morton HS | Perspective Charter HS | Proviso East HS |
| Proviso West HS | St. Joseph HS | Uplift Community HS | Zion Benton Township HS |
Halftime performances include notable acts, such as: Stairway to the Stars, Atmosphere of Tumbling, Spellbinder the Magician, and the Jesse White Tumblers. There will also be a host of community talent from the local feeder teams and middle schools.
New this year, Shannon and Sterling Brown, both previous Pirate basketball starts who participated in the Proviso West Holiday Tournament, in partnership with the SALUTE team and PTHS D209 will offer a Holiday Skills Clinic at the Proviso West Holiday Tournament. Their goal is to teach the game of basketball while enforcing key life principles through basketball skills and drills. The clinic will be run by coaches with great basketball minds and teaching skills; this will help the kids be able to absorb and apply those same skills to everyday life lessons. Hard nose defense, ball handling, and offensive versatility will be the core.
Collaborating with PTHS D209 to bring the skills clinic to life for Proviso youth is special and important to both Shannon and Sterling Brown. "It's important to us because giving back and being around the kids will boost their motivation to be successful and inspire those with a different path. Having this opportunity to continue to instill solid life principles in the kids through basketball will help them become better individuals and succeed."
As always, PTHS D209 looks forward to a very exciting and competitive tournament.
If you have any questions about the tournament, please do not hesitate to reach out to Proviso West Assistant Principal of Athletics, Activities and Parent Engagement Mrs. Amanda Brode-Rico at abrode-rico@pths209.org or at 708.556.7140.
Proviso West Holiday Tournament tickets are already on sale; make a great holiday gift—one the entire family can enjoy! They can be purchased online: https://gofan.co/app/events/75082
Shannon & Sterling Brown Holiday Clinic Registration: https://www.eventbrite.com (search Shannon and Sterling Brown)
Tounrament Reveal Photos click Here.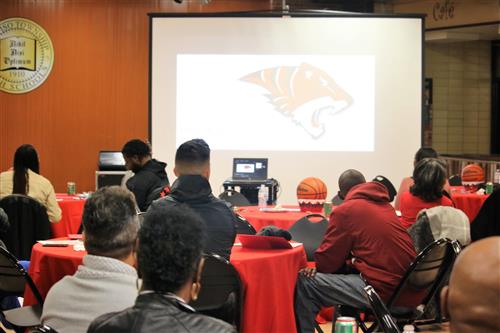 Tournament Bracket