Return to Headlines
PTHS D209 Outlines Facility Master Plan 2019-2022 Projects
PROVISO TOWNSHIP – The Proviso Township High Schools District 209 (PTHS D209) Facility Master Plan (FMP) was developed through a collaborative process that provides a long-term framework for the future development of our educational facilities and funding needs driven by equity, empowerment, and excellence.
Due to the dynamic nature of the FMP and in an effort to ensure transparent and engaging on-going communication during the FMP process, PTHS D209 developed an "At A Glance" publication that summarizes the FMP capital projects budget distribution and Phase 1 (2019-2022) projects. The At A Glance publication can be found on the D209 website at www.pths209.org under Community Outreach and Public Relations.
The FMP process was initiated in September 2017 to establish a long-term strategy for the next ten years that accomplishes the following:
Reflects community priorities and values
Projects future investments protecting District assets
Establishes a timeline for proactive initiation and implementation
Maximizes taxpayer investment in education
Addresses academic, site, and infrastructure needs
One of the most important functions for District leaders is to ensure the District's facilities remain safe, secure, and support the instructional needs of current and future students of PTHS D209. As such, FMP Phase 1 consists of a $76.9 million investment in the future of PTHS D209 students. The money allocated for the FMP was the result of the District's ability to achieve financial stability. Today, PTHS D209 has earned an A+ bond rating and a state-designated financial recognition of 3.9/4.0. Superintendent Jesse J. Rodriguez further explained that, "D209 functions in a structured manner guided by policies with best practices focused on future sustainability for financial planning."
Some of the capital projects in Phase 1 that have already been completed for the 2018-2019 school year include Health and Life Safety projects at all three schools and a $1.3 million-dollar renovation of the Proviso West Fieldhouse which has allowed PTHS D209 to ensure that student-athletes have the equipment and facilities they need to take their achievements to the next level.
The capital projects scheduled for school years 2020-2022 will allow PTHS D209 to offer students state of the art educational facilities that are safe and improve the teaching and learning environment. The upcoming projects include but are not limited to new Career and Technical Education facilities (such as culinary arts and advanced manufacturing classrooms), improved parking and traffic control, and air-conditioned classrooms at Proviso East and Proviso West. Other anticipated capital projects include the renovation of the Proviso East Football stadium, the relocation of the Proviso East auto shop, and the improvement of secured entrances at Proviso West.
The PTHS D209 Board of Education and Superintendent Rodriguez invite you to hear more about the FMP on Tuesday, December 3rd at 6:00 p.m. at the Hillside Village Hall located at 425 N. Hillside Ave. and on Thursday, December 5th at 6:00 p.m. at the Village of Maywood Board Room Chambers at 125 S. 5th Ave. For additional information on the FMP, please visit the D209 website at www.pths209.org under Community Outreach and Public Relations.
Over the next ten years PTHS D209 will continue to make significant investments in its schools as they are committed to providing the highest quality education, where learning, leadership, service, and research-based practices ensure equitable and meaningful opportunities for all students.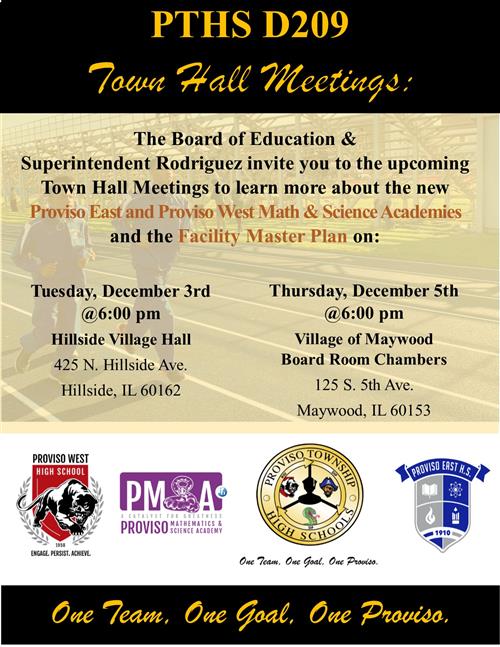 ---
PTHS D209 Delinea los Proyectos para el 2019-2022 del Gran Plan de Instalaciones
PROVISO TOWNSHIP—El Gran Plan de Instalaciones (FMP, por sus siglas en inglés) del Distrito 209 de Escuelas Secundarias de Proviso Township (PTHS D209) fue desarrollado por medio de un proceso colaborativo que provee un marco a largo plazo para el desarrollo futuro de nuestras instalaciones educacionales y necesidades de financiamiento basadas en equidad, empoderamiento y excelencia.
Debido a la naturaleza dinámica del FMP y en un esfuerzo enfatizando la transparencia continúa y participativa durante el proceso del FMP, PTHS D209 diseñó la publicación "A Simple Vista", que ofrece un resumen la distribución de fondos de los proyectos capitales y los proyectos de la Fase 1 (2019-2022). La publicación A Simple Vista se puede encontrar en la página del D209, www.pths209.org, bajo Comunidad y Relaciones Públicas.
El proceso del FMP fue iniciado en septiembre del 2017 para establecer una estrategia a largo plazo para los próximos diez años que logra lo siguiente:
Refleja los valores y las prioridades de la comunidad
Proyecta inversiones futuras protegiendo los recursos del Distrito
Establece una cronología para iniciación e implementación proactivas
Maximiza la inversión de los contribuyentes en la educación
Cubre las necesidades académicas, inmobiliarias e infraestructurales
Una de las funciones más importantes de los líderes del Distrito es asegurase que las instalaciones del Distrito sigan siendo seguras y apoyen las necesidades de enseñanza de estudiantes actuales y futuros de PTHS D209. Como tal, la Fase 1 del FMP consiste en una inversión de $76,9 millones en el futuro de estudiantes de PTHS D209. Los fondos asignados al FMP fueron el resultado de la habilidad del Distrito de lograr estabilidad financiera. Hoy en día, PTHS D209 ha obtenido una valoración de bolsa de A+, y un reconocimiento del estado con designación financiera de 3.9/4.0. El Superintendente Jesse J. Rodríguez explicó que, "El D209 funciona en una manera estructurada, guiada por pólizas con mejores prácticas enfocadas en sostenibilidad futura para planeación financiera".
Algunos de los proyectos capitales en la Fase 1 que ya se han completado para el año escolar 2018-2019 incluyen proyectos de Salud y Seguridad en las tres escuelas y una remodelación con un costo de $1,3 millones del Pabellón deportivo de Proviso West, el cual le ha permitido a PTHS D209 asegurase que los estudiantes-atletas tengan el equipo y las instalaciones que necesitan para lograr el siguiente nivel.
Los proyectos capitales programados para los años escolares 2020-2022 le van a permitir a PTHS D209 ofrecerles a los estudiantes instalaciones educacionales de última generación que serán seguras y mejorarán el ámbito de enseñanza y aprendizaje. Los siguientes proyectos incluyen, pero no están limitados a, nuevas instalaciones de Carrera y Educación Técnica (tales como salones para artes culinarias y manufactura avanzada), mejoramientos a estacionamientos y control de tránsito, y salones con aire acondicionado en Proviso East y Proviso West. Otros proyectos capitales anticipados incluyen la renovación del estadio de futbol de Proviso East, la reubicación del taller mecánico de Proviso East, y mejoras a las entradas seguras en Proviso West.
La Junta de Educación de PTHS D209 y el Superintendente Rodríguez los invitan a escuchar más sobre el FMP el martes 3 de diciembre a las 6:00 p.m. en Hillside Village Hall localizado en el 425 N. Hillside Ave. y el jueves 5 de diciembre a las 6:00 p.m. en Boad Room Chambers del pueblo de Maywood localizado en el 125 S. 5th Ave. Para información adicional sobre el FMP, por favor visite la página web del D209 al www.pths209.org bajo Comunidad y Relaciones Públicas.
Durante los próximos diez años PTHS D209 seguirá haciendo inversiones significantes en sus escuelas ya que están comprometidos con una educación de la más alta calidad, donde el aprendizaje, liderazgo, servicio y prácticas basadas en investigación garanticen oportunidades equitativas y significantes para todos los estudiantes.