Return to Headlines
D209 Students Start School Year With New Laptops / Los Estudiantes del D209 Comienzan el Año con Computadoras Portatiles Nuevas
The PTHS D209 Technology Department welcomed students to the 2019-2020 school year with an HP laptop for educational use at school and at home. Laptop distribution was a huge success thanks to the hard work of the Technology Department. Distribution took place at all three Proviso campuses from August 19 through August 29.  With the 1:1 Computer Initiative PTHS D209 continues the path of enhancement, equity and excellence.
Tracy Avant-Bey, District Director of Technology, indicated that she was excited to see the 1:1 Computer Initiative come to life. "Our goal is to provide a medium for students to become engaged in their learning and develop skills that promote productive and innovative lifelong learners."  
Students value this opportunity, they expressed a sense of empowerment and shared visions of how having a laptop will enhance and ease their learning. "Everything will be a lot easier to access," said Karen Resendiz, incoming freshman from Irving Middle School. Isaac Herrera, a senior at PMSA, commented, "I feel it will be a great opportunity and it will open many doors for me and my peers." 
"It'll really help," said freshman Kassandra Lomeli, "there's times when you can't go to the library." By having a laptop at home, students can do research for their classes at home, or simply, as stated by Ricky Raspberry, Class of 2020, "type my paper easier."   
Technology in the classroom helps students solve problems, gather and evaluate information, and disseminate work efficiently through learning that is either self-paced and individualized, or collaborative and cooperative.  
If you have not already done so, please review the acceptable use of technology in PTHS D209 and frequently asked questions forms HERE.
To see gallery click HERE.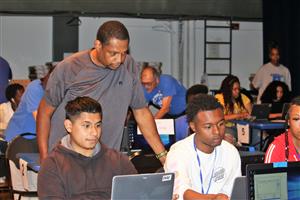 ---
El Departamento de Tecnología de PTHS D209 les dio la bienvenida a los estudiantes al año escolar 2019-2020 con una computadora portátil HP para uso educacional en la escuela y la casa. La distribución de las computadoras fue un gran éxito gracias al enorme esfuerzo del Departamento de Tecnología. La distribución se llevó a cabo en las tres secundarias de Proviso entre el 19 y el 29 de agosto. Con la Iniciativa de Computación 1:1 seguimos dando pasos hacia el enriquecimiento, la equidad y la excelencia.
Tracy Avant-Bey, Directora de Tecnología del Distrito, indicó que estaba emocionada de ver que la Iniciativa de Computación 1:1 se materializara. "Nuestra meta es proveer un medio para los estudiantes para que se involucren en su aprendizaje y desarrollar habilidades que promuevan el convertirse en aprendices innovadores y de por vida".
Los estudiantes valoran esta oportunidad, expresaron un sentido de empoderamiento y maneras de como tener acceso a una computadora enriquecerá y facilitará su aprendizaje. "Todo va a estar más al alcance," dijo Karen Reséndiz, estudiante de primer año proveniente de la escuela Irving. Isaac Herrera, estudiante de cuarto año en PMSA, comentó, "Siento que va a ser una gran oportunidad y que va a abrir muchas puertas para mi y mis compañeros". "Realmente va a ayudar", nos dijo Kassandra Lomelí, "hay veces que uno no puede ir a la biblioteca". Al tener una computadora personal en la escuela, los estudiantes pueden conducir investigaciones para sus clases desde su casa, o simplemente, como declaró Ricky Raspberry, clase del 2020, "escribir a máquina mis tareas más fácil".
La tecnología en el salón le ayuda a los estudiantes a resolver problemas, recolectar y evaluar información, diseminar su trabajo eficientemente a través de un aprendizaje a paso propio y particular, o colaborativo y cooperativo.
Si aun no lo ha hecho, por favor revise las formas de uso aceptable de tecnología en PTHS D209 y las preguntas frecuentes AQUÍ.
Para ver la galería presione AQUÍ.