Return to Headlines
PMSA Honored at National Blue Ribbon School Special Ceremony in Washington D.C.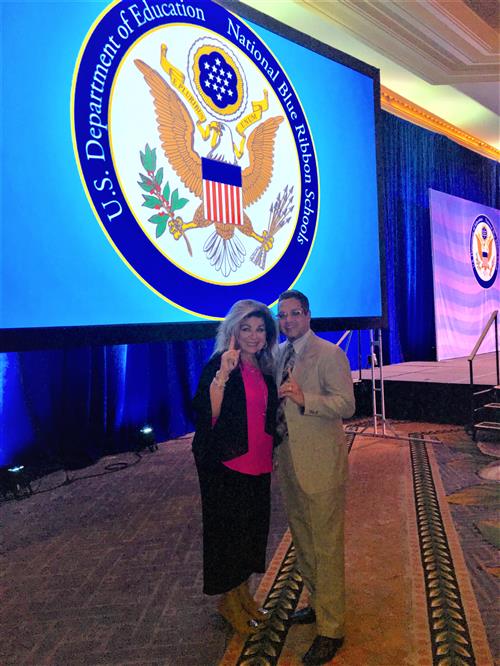 On November 8, 2018, PMSA was recognized in Washington D.C. by the U.S. Department of Education for its consistent commitment to superior student achievement and academic excellence. The National Blue Ribbon Program honors outstanding schools across the country. The program is designed to celebrate systemic excellence in schools that effectively close the student achievement gaps. The Blue Ribbon distinction is the highest award a school can receive, as less than one-third of one percent of schools that are eligible for the award receive it each year.
All Blue Ribbon recipients maintain a proven record of quality. For PMSA specifically, this included students earning extraordinary scores in the ACT, PARCC, SAT, National Merit Scholarships, and Advanced Placement participation and performance. This award also solidifies PMSA's standing as one of the top high schools in the state.
Superintendent Jesse J. Rodriguez, Ph.D. and the Board of Education are proud partners of PTHS D209's continuous improvement in superior achievement at PMSA and are thrilled for the opportunity to have districts across the state and country see PMSA highlighted in the national spotlight. This is a true testament to all of the extra hours that the teachers, staff and administrators of this faculty put into educating all Proviso students, and creating world-class opportunities for them.
"We have continued goals for national and international recognition in our district. We aim to provide innovative instruction to all our students, preparing them to be competitive members of a dynamic global society. This is only the beginning. All our schools will continue to strive for this upward bound motion of excellence," said Dr. Rodriguez.
"Being invited to represent PMSA along with my principal and superintendent at the 2018 Blue Ribbon Awards Ceremony was an experience of a lifetime. To interact and celebrate with other educators and administrators from across the nation was an opportunity that I will never forget. Sitting down with other award recipients from schools in AZ, PA, TX to discuss how they have pushed their students and faculty to the top was not only inspiring, but also humbling. I am grateful for this opportunity and thankful to District 209" said Cristin Chiganos, Department Chair for English and Social Studies.
"It was a day of heartfelt emotion when I heard them call our school's name and were asked to come to the stage to receive our award. Never did I expect to receive such an honor. I am elated and yet humbled to be granted that prestigious name. Without the support of my teachers and the guidance of my superintendent, we would not be who we are today. I look forward to years of improvement and growth and would like to thank the Board of Education for their continuous support and dedication to the future of PMSA.," said Dr. Bessie Karvelas, Principal of Proviso Math and Science Academy.
We encourage aspiring Pythons and their families to tour PMSA, meet faculty, staff, and students, and learn about PMSA programs by joining us at our next Admissions Open House on December 6, 2018 at 6:00 p.m.
*Students applying to PMSA must complete the Naglieri nonverbal ability test and a written essay at PMSA on scheduled admissions assessment dates. The next admissions assessment test date is on November 17, 2018 at 9:00 a.m. For more details click photos below.
###